Family Of Pain getting the pinfall victory!
Jamie Jay giving Showtime a lift!
DCW's Legendary Announcer-Al Hall
X Kaliber taking on Lord Humungous
Jimmy Hall & Austin Lane taking it to the next level!
ODB showing why she was champ!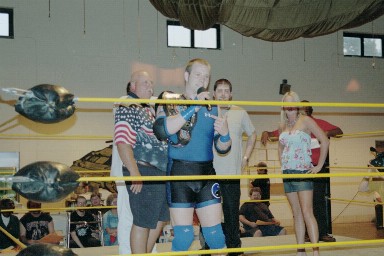 Tracy Brooks setting Daizee Haze up.

The Newest Tag Team in DCW-NEW BREED
Jamie Jay preparing for action!
DCW Newcomer-Delirious
Rocker getting the better of Jeremy Blaze
Angel Williams before becoming the New Champion!
Danny B. delivering a Revolution to Taylor!
Deadly tastes Sgt's stiff left hand!



Family Of Pain
DCW Champion Austin Lane & Hollywood Clique
Hex Hatred nearly choking Delirious out!
Sam Dollar assisting his newest client-Rocker
ODB withe Ladies title before being upset by Angel.
Christie Ricci being stretched!